The incredibly pragmatic electorate
Sep 2023
Singaporeans are incredibly pragmatic. This is reflected in the 2023 Presidential Election.
TKL got a mere 13.88%, even lower than NKS at 15.72%. Tharman, of course, got a 'landslide' at 70.40%.
The results surprised me, to be honest. TCB and TJS had no or little effect at all.
What can we see here?
The hardcore anti-PAP faction is 30%. Those who refused to vote for TKL voted for NKS.
In 2011's election, TT got only 35.20%. That's the hardcore PAP faction. There is a significant group that is willing to vote in quality candidates such as TCB, but the keyword being 'quality'.
Quality in this context has a high connotation of 'pedigree'. TCB was a well-liked Doctor and an ex-PAP MP. TJS was even the principal private secretary to then DPM GCT at one point of his career.
Tharman is considered very likeable — he just looks that way. :lol: If anyone bothered to dig any deeper in terms of the policies that affected their livelihood, they might change their mind.
Elections are popularity contests. Presidential Elections are worse because you have to appeal to the entire nation.
Non-PAP candidates need to start their awareness campaign right now. Not 14 days before the election. Yes, it's a gamble (they may not qualify), but when the fight is unfair, every little thing counts.
3 Tans vs PAP
Aug 2023
In 2011, four Tans contested for the Presidential Election. Tony Tan won with 35.20% of the vote, a narrow win over Tan Cheng Bock with 34.85%.
If the other two Tans had the sense to withdraw, TCB would have won.
There is no doubt that PAP fears TCB. They made the 2017 election a "reserved" one, then raised the eligibility rules for the 2023 election.
Despite the changes, Tan Kin Lian still qualified. :lol: And he ran.
I found it surprising that Tan Jee Say was his Seconder. TJS also ran in the 2011 Presidential Election and gotten 25.04%. Former "enemy", today's ally.
One week later, TCB also announced that he endorsed TKL (in his personal capacity, of course). I was quite surprised by this.
Sometimes you got to set aside differences and see the bigger picture. TKL is extremely imperfect as a public figure, but he is the only choice in this election that can make a technical difference.
The Presidential role is extremely limited (and mostly ceremonial), but it can voice its concerns and override the Government in little ways. It'll be a thorn in their flesh.
TKL is not a public figure. He speaks his mind. He has a few strikes against him, people spare no effort to dug up his dirt. :lol:
First, he is pro-Singapore. This means he is anti-FT. No, Singapore must welcome FTs. I'm bemused by this. Do they vote?
Second, he is pro-CCP. China communists, communists bad. No, we must be pro-USA.
Third, he is said to be pro-Russia. No, Russia is the invader and is clearly the bad guys. Everyone must side with Ukraine. The Russia-Ukraine conflict really shows how things can be whitewashed and facts be twisted.
Fourth, he wants to be merciful towards drug mules. This directly steps on PAP's red line. Anyway, just fly a drone in. No need to risk any life. :lol:
Fifth, he told gays to 'do it privately'. If you want to lose the LGBT vote, this is how to do it. No, they will shove it in your face and you must accept it.
Sixth and most serious (IMO) is his "pretty girl" comments. ST did their research and said he made 20+ such comments in the past two years. TCB dismissed it as gutter politics, but it is not entirely true because he did make such comments. It is inappropriate as a Presidential candidate, but I won't say it "objectifies women". He just shared his thoughts on what he saw. In response to criticisms, his old boss the ex-PM Mr Goh made two posts captioned "handsome man".
The other two candidates either echo the mainstream view or give safe answers. Basically, they pander to you to avoid losing your vote.
The Man versus the State
Aug 2023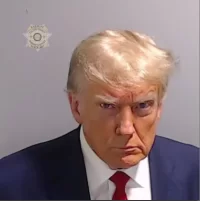 There are some people who are very afraid of Trump... so afraid that they are willing to go to any length to convict him... of anything!
Two things come to my mind.
First, they have become the very evil that they are trying to eradicate. Any means is justifiable, all laws be damned.
Second, "useful idiots". So many people in power are blinded by their hatred or bias and helped one way or another, and they will pat themselves in the back for doing "God's work". Little do they know they are just pawns.
The most ironic thing is that because they have set the precedence, what they have done to others today, the others can do the same to them in the future. This has happened in the past. And they would cry foul over it. When they do it to others, it is justice. When others do it to them, it is abuse of power. It is amusing.
GTO 1998 on blu-ray
Aug 2023
GTO (1998) got a blu-ray release on 26 July 2023 in Japan. Was it any good? No idea, didn't want to pony up 25,434 yen (S$240) for it. There is no mention of remastering, so my guess is that it is not very good.
I found an existing HD transfer, dated a couple of years back.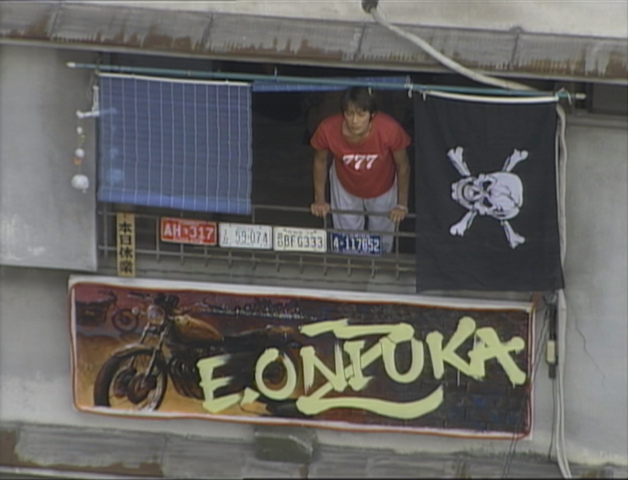 Web HD, resized to 480p
Compare to the R2 DVD: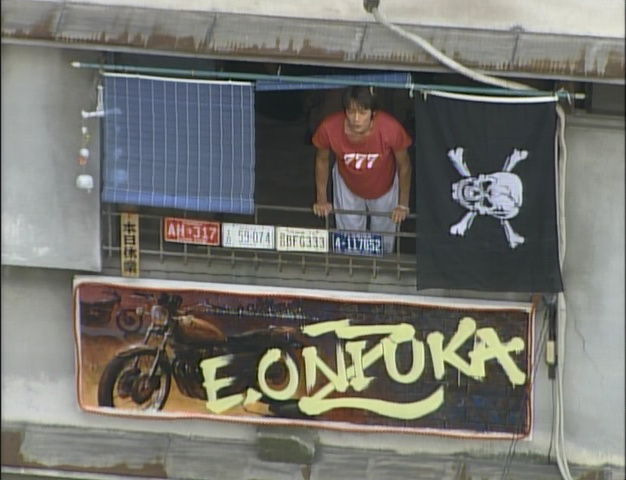 2002 R2 DVD (626x480)
The HD version is only very slightly better. The details are about the same, but without DVD compression artifacts.
Messengers
I also looked for another favourite show of mine, Messengers (1999). I found a 720p version.
Web 720p, resized to 480p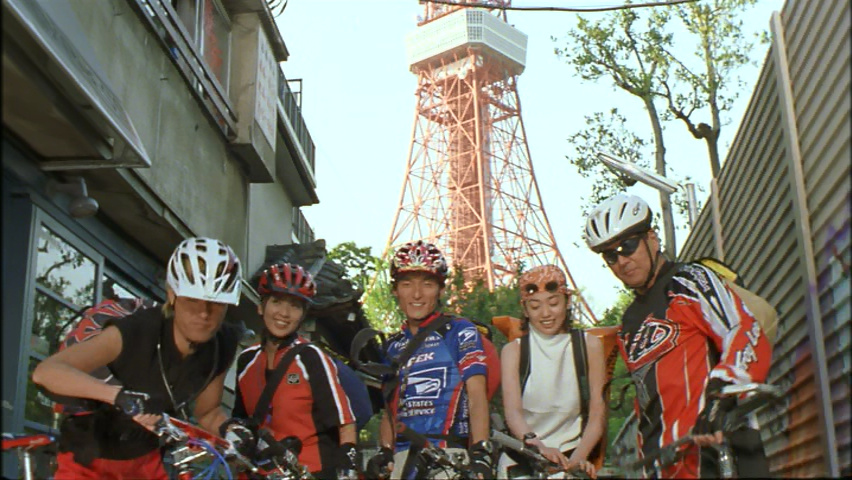 2003 R2 DVD (852x480)
It looks a little better than the DVD version, but nothing amazing. It looks more natural cos it has not been sharpened.
Blu-ray collection 2023
Jul 2023
I started buying blu-rays in 2017. Here's my collection today.
Anime
Animation
Chinese
Classics
English
Sold (at great loss):
Blade Runner 2049
Cars 3
Edge of Tomorrow
Guardians of the Galaxy
The Maze Runner
Maze Runner: The Scorch Trials
Maze Runner: The Death Cure
Pirates of the Caribbean: Curse of the Black Pearl
The Princess Bride
WALL-E
I may get rid of more shows. They are good shows, but some of them are not "great" enough.
Shows I may get or am waiting for:
Messengers [メッセンジャー] (1999) (not yet released)
Stagecoach (1939)
The Magic Blade [天涯明月刀] (1976) (not yet released)
The Time Machine (1960)
It is interesting that only 3 shows from 1960 to 1980 caught my attention. Surely there must be more.
Only Fools Fall in Love blu-ray
Jul 2023
Only Fools Fall in Love [呆佬拜壽] (1995).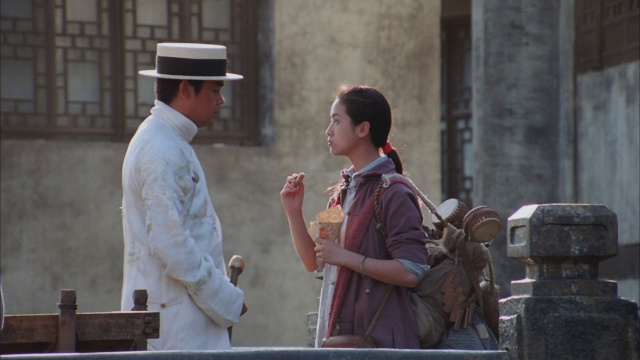 Only Fools Fall in Love blu-ray 2021, resized to 360p
Another of my favourite HK show. This show is very well produced — it is very polished. Most HK shows are not at this level. However, it does not seem to be popular. I didn't expect it to be digitally remastered nor released on blu-ray.
Working Class blu-ray
Jun 2023
Working Class [打工皇帝] (1985). This is a light-hearted comedy. I liked it in my childhood and I still like it now.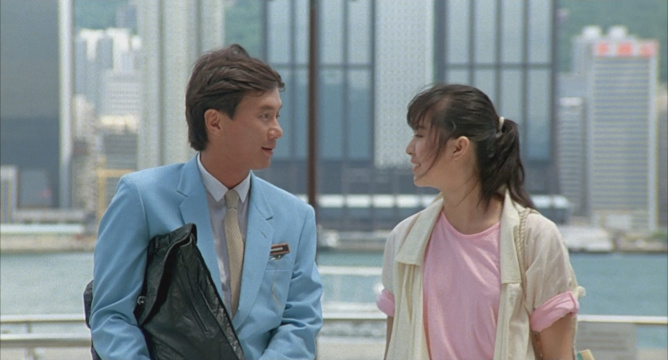 Working Class blu-ray 2021, resized to 360p
This is a run-of-the-mill show with no outstanding merits. I'm surprised it is digitally remastered and released on blu-ray. I never thought either would happen.
Watching it today is a glimpse into Hong Kong in the 80s. It is also somewhat amusing to see low budget shows trying to emulate the rich lifestyle. I must admit I was fooled in the past, but now they look like cheap tricks. :lol:
My Last Millionaire
Jun 2023
Arrow Video released a new blu-ray of Millionaires' Express [富貴列車] (1986).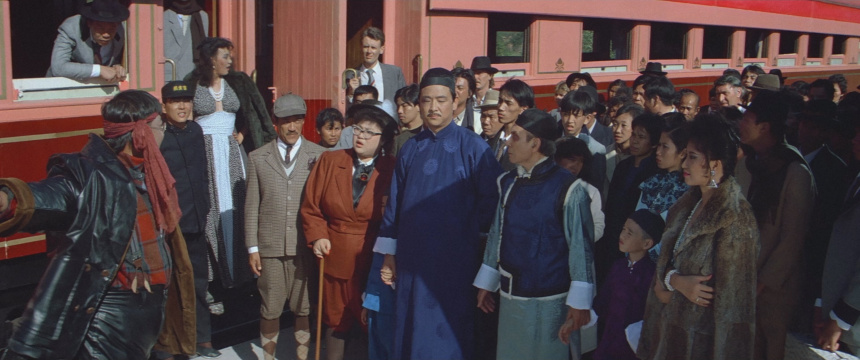 Arrow Blu-ray 2023 (1920 x 804), resized to 360p
This is the ultimate edition: remastered 2K video, 4 different editions across 2 discs (HK, International, Export, Hybrid) and tons of extras. It has Cantonese and English soundtracks, and English subtitle. Unfortunately, there is no Mandarin soundtack and subtitle, or it would have been the Perfect edition.
There was a K&M blu-ray release in 2013. The video was upscaled from DVD. No wonder it looked so similar to the DVDs.
This is the last time I'm getting this show. :lol:
Painting IVAR side units
Jun 2023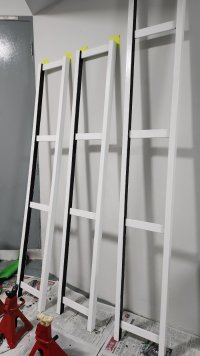 Missus wanted me to move all my IVAR shelves out of the bedroom that I was using as a display/store room. I took this opportunity to do some house-cleaning and to paint the shelves.
I'm only painting the side units. It is hard to find a good time to paint them as they are always in use. I will paint the shelves another time.
I want the shelves to be bright, so I chose white paint. White matches everything, can't go wrong with it. A dark color also works (will make the shelves invisible too).
I paint the inside black to hide the holes. This should improve the look of IVAR vastly. IVAR has an industrial look that does not fit well in a home.
First, I paint one thin coat of primer on the inside and two coats on the outside. Primer is whitish, so you don't want too thick a layer for opposing colors (e.g. black), else you have to paint extra to paint over it. In my first sets, I had to paint an extra layer of black to 'overcome' the primer.
Next, I paint the inside black. I use Black Magic which is greenish black. The first coat is greenish. I thought the shop gave me the wrong mix and I went back and check. It turns out it will eventually turn black with more coats. Need 2 to 3 thin coats.
Next, I paint the outside white. Need 2 to 3 coats and some touch-ups.
Finally, I touch-up the black parts.
Working on 3 side units at a time, it takes only 5 to 10 mins to paint one side, then wait for 20 to 30 minutes to paint the other side, and then wait for an hour before doing another coat.
I just use regular (but of decent quality) brushes. A 1" or 1.5" for outside and 0.5" or 0.75" for inside. I started with a 4" roller but it was a disaster. It did not spin well and splattered paint everywhere.
To reduce brush streaks, it is recommended to paint horizontally or wet the paint a little with water.
Something to watch out for is to avoid the paint dripping into the holes and making it hard/"impossible" to put the pins in. I did this by painting the inside perpendicular to the ground.
Solved Rubik's Cube at last
Jun 2023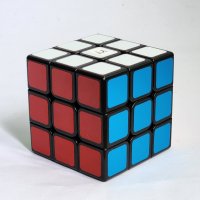 I finally learn how to solve a 3x3 Rubik's Cube after some 42 years. It is a minor "Achievement Unlocked" moment for me. :clap:
I first followed the instructions that came with the cube. It works, but there are too many rules to follow. (*) On YouTube, you'll find the "Beginner's Method" which has more steps but fewer rules.
(*) It uses the Beginner's Method for the first two layers and the last layer cross, then switches to some sort of OLL (Orient Last Layer) and PLL (Permutate Last Layer). It has one algo for OLL only, need to repeat the same algo several times. It has two algos for PLL, also need to repeat several times.
I had some difficulities following the first video that I picked, then I was able to follow a second video. What was funny was that when I went back to watch the first video, I found that it had the exact same steps!
People could solve the Rubik's Cube in less than a minute using the Beginner's Method. However, they are not using the "absolute" Beginner's Method. There are three ways to speed up:
Shortcuts
Finger tricks
Lookahead
Shortcuts are ways to solve faster if certain conditions are met. They are faster, but you have to learn more algos. And more practice to be actually faster!
Finger tricks are using optimal finger movements to move the pieces fast.
Lookahead is to be able to solve the next step or stage without pausing.
Once you master the above, you have max'ed out the Beginner's Method. Then it is time to move to advanced methods. The next step up from the Beginner's Method is F2L (First 2 Layers), where you solve the first two layers directly. This is key to getting sub-30s time.
How to bring down COE quickly
May 2023
LTA brought forward the 5-year deregistration COEs in order to increase the quota today. It is a one-time fix.
My suggestions.
Commerical usage will pay 50% more. If COE is $50k, commerical cars will pay $75k.
(The Transport minister continues to deny that commerical cars contribute to high COE. In typical PAP deflection, he said they make up only 10% of the car population. What is important is their makeup in COE bidding today, which is 30% to 40%.)
New cars will be fitted with new IU that deducts double ERP and parking. Existing cars that have their COE renewed will be charged double as well. Make usage more expensive. Shift the cost from ownership to usage.
Combine cat A and B. Many people ask for more categories. Instead, we should reduce the number of categories and pool the quota together. Have a formula that penalizes "big" cars, e.g. 50% higher COE for cars with OMV over $30k, 100% higher COE for cars with OMV over $50k and so on.
Must deposit 30% of last bid price upfront (min $10k). This is less a deterent than you may expect, because people can take personal loan for it.
Pay what you bid, up to 120% of the COE price. The cutoff is no longer a line, but a band. Hopefully, this will make people think harder cos they are paying more for the same piece of paper.
Pay 25% more for 5-year COE renewal (min $10k). Make it less attractive to renew COE and hence will return to the quota.
But don't think that COE will crash. The price depends very much on what people are willing to pay.
Air-con broke down again
May 2023
In the first week of April, my air-con broke down again. Everything seemed to work, but it was not blowing cold air. There were two notable points:
It did blow cold air at the start and every hour or so
The compressor was shaking quite hard and there was no wind from the fan
It also felt a bit warmer than usual
The air-con compressor is Daikin MA56EV16. Specs: non-inverter, 20,267 BTU/hr, cooling capacity 5.94 kW, current 7.6A, sound level 54 dB(A).
Indoor unit: Daikin FT25DVM. 9k BTU/hr. Cooling capacity 2.6 kW. Airflow 247 cfm. Sound level 36/29 db(A). Power 815W.
The compressor can only cool two rooms simultaneously. It can cool 3 rooms at 74% efficiency and 4 rooms at 56% efficiency.
Can I change the compressor to an invertor unit keeping everything else? ChatGPT says yes, but the air-con technician says no.
In the end, it turned out that the fan blade shattered into pieces. That explained the exploding sound I heard that night before — I found the air-con was not cold the next morning.
The blade costed $42 new, but there was no stock left. The technician found a 2nd one for $85. And he recommended to change the motor (also 2nd hand) as well for $225. (He insisted on it.) It was plain just changing the blade alone was not profitable for them.
(The motor was still available new for $255, but they would charge a further installation fee of $60 — I called the first air-con shop I found online. Maybe that was not a good idea.)
As they were replacing the parts, I felt that the replacement motor looked older than mine! It also made a low whining sound when in operation.
If the air-con breaks down again, and parts get harder and harder to find, I will need to replace the whole system. It will be a major pain. This air-con system is 13 years old with two breakdowns.
Minimum requirements: inverter, 36k BTU/hr.