Dedollarization is on the table
Apr 2023
US/EU did 4 things to sanction Russia over the Ukraine invasion:
SWIFT ban
Freeze overseas currency reserves
Freeze overseas assets of Russian citizens
Force Swiss banks to disclose Russian bank accounts
As the next big target, China is obviously not seating still. It is actively promoting the use of Yuan for trading.
It is not a surprise that Russia is on board (they are forced to), but Saudi Arabia, Brazil and India are also on board this time round. India does not want to use Yuan, of course, but it wants De-Dollarization nonetheless. These countries are usually pro-USA.
The problem when you weaponize the Dollar is that people wonder when you will use it against them. In the past, the US has invaded countries that try to switch away (witness: Iraq, Libya).
Why do countries need to use US dollars at all? If Russia trades with China, why don't they use either Ruble or Yuan? There are two reasons. First, you may have something to buy, but you have nothing to sell. Let's say China received a bunch of Rubles for its goods, what can it buy in return? Second, if it cannot be spent now, will it keep its value in the long run? You don't have control over it.
So China will want Russia to pay in Yuan. Russia has to convert Ruble to Yuan first (i.e. pay market price). It prefers not to do this unless it does not have a choice (like now).
Unlike Ruble or Yuan where they are used primarily in one country, US Dollars are universally accepted. So you sold some goods to a country but have nothing to buy in return? No problem, just spend it in another country.
For a currency to be used as the trading currency, there must be a "loop" where the countries can trade self-sufficiently within themselves. The currency is just used for convenience. It is consumed, not stored.
The country whose currency becomes the reserve currency will get a 'free pass'. It can print as much as it wants and devalue the holdings of other countries. USA has been doing this for decades and other countries are tired of it. No one will trust another country, so the talk is about using a gold-backed currency. In the end, gold is the only thing that can be trusted — because no one has found how to make more of it.
| Currency | US$1 | Normalized |
| --- | --- | --- |
| China Yuan | 6.88 | 1.000 |
| Russia Ruble | 81.66 | 11.869 |
| Saudi Riyal | 3.75 | 0.545 |
| India Rupee | 81.98 | 11.916 |
| Brazil Real | 5.07 | 0.737 |
| Ringgit | 4.42 | 0.642 |
| SGD | 1.33 | 0.193 |
What is needed is a way for the currencies to be converted frictionlessly from one to another, and if they cannot be consumed immediately, stored in a "value-retaining" currency (i.e. backed by gold).
It is said that China is paying in Yuan to Saudi Arabia for its oil. Which is then used by Saudi Arabia to buy (Chinese) gold — paper gold — with it. It remains to be seen how liquid this is.
What's the dealer's margin?
Apr 2023
I heard the article How Much Does The Government Make On Each BMW 7 Series Sold In Singapore? from Dollars and Sense. The focus is on how much the Government earns on each BMW 7 series car, but the article purposely avoids the other elephant in the room.
| | |
| --- | --- |
| OMV | $102,460 |
| ARF | $207,872 |
| Others | $45,328 |
| COE | $115,500 |
| Total | $471,160 |
The car is sold at $636,888. The dealer's margin is $165,728, 26% of the car price.
If you want to own, you got to pay.
When you see a high-end car in Singapore, just remember that it is a 4-room HDB flat on wheels. $600k used to be able to get you a nicely-sized condo, but housing prices have gone up so much that you can only get a 4-room HDB flat...
Breaking point this year?
Apr 2023
News: High rent, stiff competition: Geylang Serai Ramadan bazaar stallholders struggling to turn a profit
Date: 6 Apr 2023. Source: CNA.
Stallholders said there are too many competing bazaars in other parts of Singapore this year.
Kebab seller Mr Hasan said on Wednesday (Apr 5) that he regrets taking up a stall at the Geylang Serai Ramadan bazaar this year.
Pointing to the stalls next to his, the owner of Hasan Istanbul Kebab told CNA: "We're all losing money. (We) cannot cover costs, cannot even cover rent."
Over at the neighbouring stall selling Ramly burgers, a worker who declined to be named echoed that sentiment.
"We regret taking it this year," he said. "It was okay in previous years."
Mr Hasan is forking out about S$25,000 (US$18,860) in rent, while his neighbour is paying S$20,000.
There have been complaints about high rental costs at the Geylang Serai Ramadan bazaar since it started on Mar 17.
Besides the cost of renting a stall at the bazaar, multiple stallholders said there seemed to be fewer visitors this year, attributing it to ongoing bazaars across Singapore.
Mr Muhd Ridzuan, who runs a stall selling burgers and fried snacks, said that at the 2019 bazaar, he saw snaking queues starting from about 4pm.
When CNA spoke to him at about 6pm on Tuesday, there were no queues at most stalls in the vicinity.
In the past, only three or four bazaars were held during Ramadan, he said. This year, he estimated that there are at least eight or nine. According to social media posts by bazaar organizers, there are pasar malams – night markets – in Bedok, Jurong East, Tampines, Punggol and other locations during this period.
Mr Ridzuan said he hopes that more customers will come after the bazaar in Kampong Glam ends on Apr 16.
Owner of J8 Food Street, Mr Max Tan, also said too many bazaars were set up this year.
"Everyone is very spread out," he said, referring to the customers. "Footfall was higher in the past, pre-COVID."
Associate Professor Muhammad Faishal Ibrahim, lead adviser of Wisma Geylang Serai, wrote in an Instagram post on Tuesday that more than 2 million visitors have visited the bazaar.
"We are already on set to be on record of having the largest number of people coming to a Ramadan bazaar in Singapore," said Assoc Prof Faishal, who is also Minister of State for Home Affairs and National Development​​​​​​.
There are 700 stalls available for rent at the Geylang bazaar this year, but nearly 200 were empty as of Mar 21. Wisma Geylang Serai later said in a Mar 24 press release that the take-up rate was 95 per cent for food and beverage booths, and 80 per cent for retail stalls.
"IDENTICAL" STALLS
The bazaar's organisers – S-Lite Event Support, Enniche Global Trading, and TLK Trade Fair and Events, – said they limited the number of popular Ramly burger and kebab stalls and spread them out in the bazaar.
The organisers said on Tuesday there were 20 stalls selling "premium products" under the food and beverage category, out of 150 stalls.
"In the event if, there are too many stalls selling the same food/product in the same zone, it may lead to price wars which would be highly detrimental for the stall holders. Too many similar food/products will also limit variety and options for visitors," said the organisers.
They added that despite the limits and the stalls being spread out, there could be more than one stall selling Ramly burgers and kebabs within a specified zone.
The statement added that vendors who wanted to sell Ramly burgers and kebabs at the bazaar would have been told about this.
But some stallholders felt that the organisers did not do enough.
"There are a lot of repeat stalls, identical stalls," said Mr Tan, whose stall sells Thai milk tea and snacks. There were at least two other Thai milk tea stalls in the same area that CNA visited.
Stallholders selling Ramly burgers also said repeat stalls could make it difficult to cover operational costs.
Asked if he would be able to break even, Mr Ridzuan said: "I think so, but can only earn a bit, maybe 10 per cent."
Some sellers questioned why the stalls selling Ramly burgers and kebabs were singled out, although the stallholders said it was standard practice in the industry for such stalls to be charged more.
"Other stalls have more customers but pay less rent," said Mr Essam Ezz, who estimates that 85 per cent of his earnings will go towards paying the rent for his kebabs stall.
HIGH RENT
Stallholders that CNA spoke to were split on whether rent at the bazaar was expensive. Mr Essam is paying about S$30,000 – three times what he would pay at other night markets, he said.
But others said rents are increasing at all bazaars in Singapore, and what they were paying for a stall at the Geylang bazaar is comparable or slightly more expensive than other bazaars.
Mr Mohamad Hussin, the owner of MangoBossku, said he is paying about S$15,000 per stall, compared with S$13,000 for a bazaar stall in Woodlands.
Organisers of the Geylang bazaar said rents range between S$14,000 and S$25,000 per month for F&B stalls.
"The rental costs of the stalls for Bazaar Raya Geylang Serai are within the market rental rate," they said in the statement.
Mdm Nisha Samsudeen of a fried snacks stall said her family paid S$16,000 in rent and was not sure if they can turn a profit.
"Maybe we can pay for supplies, workers and rent, but (my family) may not draw a salary," she said. "We're hoping the last two weeks will be better."
Two stallholders told CNA that the bazaar is going well for them, and attributed it to their marketing efforts.
Mr Bob Senget of The Messy Bros has earned about 80 per cent of the S$38,000 in rent that he paid for two stalls.
"Marketing must play (a) part," he said. When asked if he uses social media to promote his stall, he said he also uses a microphone and speakers to attract attention at the bazaar.
Mr Hussin of MangoBossku said he uses TikTok to keep his customers updated. He has more than 52,000 followers on TikTok and about 21,000 followers on Instagram.
"I post on social media and they come," he said.
Non-stop complaints from stallholders. :lol:
Bazaar is good business. No wonder everyone wants to organize one. But they still want to charge the old rate despite the increase in supply. Well, it's the "greater fool" theory. They managed to pass the cost to the stallholders, who now find it difficult to make back their money and cry foul.
These bazaars don't really offer anything special. You go to one, you have gone to them all. Heck, there is much duplication within one bazaar. Of the 150 food stalls, how many unique food choices are there?
Originally, the takeup rate was only 71% — 200 empty stalls! It was increased later to 95% for F&B and 80% for retail. Perhaps they were offered a better deal.
Also, 2 million visitors? Really? Just pluck a number from the sky and claim there is no problem. Very typical "everything-is-well" response. They didn't even stop to think if this number is plausible. 2 million over 20 days so far = 100k per day. Unlikely, I say.
In another article, the MP also said some stallholders told him they had turned in a profit after a week! Talk about hearing only the good things.
Are bazaar organizers just money grabbers?
I don't really pay much attention to bazaars, but in a bazaar held near my place last year, there were 3 Ramly stalls in a space of roughly 20 stalls. That's a lot, but I also thought it was normal.
This time, I paid attention to the bazaar held next to Woodlands MRT station. There are around 50 food stalls. To my surprise, there are almost no duplicates — even for drinks! There is only one Ramly burger stall and two kebab stalls. Quite a number are Taiwan-based food, so there is some cultural mismatch. But then there are only so many kinds of Malay food.
So, a bazaar can be well-planned. The Geylang Serai Ramadan bazaar organizer is either too greedy, too ambitious or too optimistic.
Up and up, no end in sight
Apr 2023
| Cat | COE | Quota | Bids |
| --- | --- | --- | --- |
| A | $96,501 | 515 | 749 |
| B | $118,501 | 430 | 566 |
| D | $12,001 | 466 | 529 |
| E | $118,900 | 134 | 252 |
COE prices are high, but they are high because people are willing to pay.
There are 3 kind of buyers, I think:
People who can afford it
People who must have a car "at all cost"
People who can pass the cost along
People who can afford it. The cheapest car is around $150k, this works out to be $1.25k/month, or $42/day. This is downright affordable if you look at it this way. Even if you get a $300k car, it is only $2.5k/month. If you earn $15k/month — and this is a sizable group — what's $2.5k? Note that car expenses are not considered. They typically add another 50% to 100% to the monthly cost.
People who must have a car "at all cost". Everyone has their own reasons. They will only give up when they are priced out.
People who can pass the cost along. PHV, car rental companies. It is said they make up a large portion of cat A bidders. Cat D (motorbike) COE is also very high cos it can be monetized.
Car prices are high because the cost of using a car is low. ERP and parking are too cheap. $1 ERP is useless. Make it $3 at least. Hourly parking needs to be $4 instead of $1.20.
On a separate note, cars are at record low prices in China from heavy discounts to move sales.
Not yet past breaking point
Apr 2023
News: Geylang Serai bazaar rental costs 'within market rental rates', say organisers
Date: 5 Apr 2023. Source: TNP.
Organisers of the Geylang Serai Ramadan bazaar said the rental costs of its stalls are within market rental rates, in a release late on Tuesday.
Organised jointly by S-Lite Event Support, TLK Trade Fair and Events, and Enniche Global Trading, Bazaar Raya Geylang Serai 2023 will end after 36 days on April 21, as compared to others that last between three and 30 days, the consortium said.
The release said that the organisers had announced on Jan 26 that the base rental for all stalls at the bazaar would be from $2,000 to $19,000. Retail stall rentals ranged from $2,000 to $12,000, while food stalls rentals ranged from $14,000 to $19,000, except Ramly burger and kebab stalls.
Those who wanted to sell Ramly burgers would have to pay a $4,000 premium on top of the $14,000 to $19,000 base rental, while stallholders selling kebabs were charged a base rental of $25,000. The organisers had deemed Ramly burgers and kebabs to be premium products, with 20 of the 150 food and beverage stalls selling such products.
All food and beverage stallholders are also subject to incidental costs of between $30 and $3,100, including utilities, water supply, fans, coolers, and tables and chairs.
The consortium has limited the number of Ramly burger and kebab stalls in the bazaar, because if there were too many stalls selling the same product in the same zone, "it may lead to price wars which would be highly detrimental for the stallholders" and limit the options for visitors.
But the release added that there could be more than one stall selling either Ramly burgers or kebabs in one zone, though the organisers have spread them out.
"This information would be made known to them, including the requirement for them to pay the additional premium price," the organisers said.
The Straits Times had previously reported that stallholders have had complaints regarding the high rental costs, and had received promises from the organisers that they would be the exclusive sellers of a certain food type in a particular zone.
However, one kebab stall did not get the exclusivity that he was promised after having forked out $24,000 for his stall, and had to compete with another kebab shop less than 50 metres away. The other kebab seller was also told verbally that there will be no other competitor in the same zone.
Many stallholders shared concerns about not being able to recoup their investment as they had to pay for the cost of utilities as well.
The consortium said on Tuesday that it incurred additional costs to ensure that visitors had the best experience, by curating concept zones and setting up more than 1,000 dining seats and tables at the bazaar.
The organisers added that it deployed more auxiliary police officers, closed-circuit televisions, and concrete blocks for additional security, which has increased their costs this year.
"We would like to assure to all the stallholders, that we treasure and appreciate the relationship and will put in our utmost ability on the various incidents which had surfaced in the past week," the organisers said. "We are in discussion with the relevant stall holders and shall resolve the matters amicably."
This is not a new issue. Rental for a food stall was $17k in 2017, when it was just $10k in 2015. Now it is $19k + $4k (for Ramly burger) + additional for utilities.
$23k over 36 days = $639/day. A Ramly burger now costs $5 and they need to sell 128 to break even. On its own, it is doable, except there are some 15 Ramly burger stalls to compete for sales!
The rental will only go down if the hawkers make a big loss and decide not to rent next year. It is not happening yet, but there are signs consumers are finally balking at the high prices.
It will be interesting to see if there is a price war near the end of the bazaar when hawkers try to reduce their loss. If that happens, then we know it is finally peak-rental.
Rental prices are through the roof
Apr 2023
News: 'Crazy' rental hikes for condo units drive some expats to rent HDB flats instead
Date: 4 Apr 2023. Source: Today.
Rental prices for private housing shot up at the fastest pace in 15 years last year
After being laid off from his job at a technology company here early this year, American expatriate Eddie Rivera was hit by a double whammy of income loss and skyrocketing housing rents.
The 38-year-old, who is living by himself, is paying S$6,500 a month to rent a two-bedroom condominium unit in Marina Bay.
But when his two-year lease ends in Jan 2024, Mr Rivera will have to pay S$9,500 a month — a 45 per cent increase from the current rate.
"I thought I was going to stay in this building for many years and re-sign (the lease), but now there's just no way I can afford that," said Mr Rivera, who now runs Amateur Pool Association of Singapore, where expatriates and Singaporeans play billiards together.
He is planning to look for a two-room Housing and Development Board (HDB) flat around the Telok Blangah area instead, with a rent of no more than S$3,000 a month.
Mr Rivera is part of a small but growing number of expats who are moving from private condominiums into HDB flats as rising inflation and rents are biting into their paychecks.
Expatriates also said that they have had to say goodbye to their fellow expatriate friends in the past few months, as some have decided to return home or relocate to cheaper locales.
Last year, rental prices for private housing shot up at the fastest pace in 15 years, according to the Urban Redevelopment Authority.
Condominium rents increased 34.4 per cent year-on-year in 2022 while HDB flat rents went up 28.5 per cent, according to separate figures from property portals 99.co and SRX.
There are no official figures on the number of expatriate professionals typically on employment passes renting HDB homes.
But property agents and analysts told TODAY they have been seeing more expatriates moving from condominiums to HDB flats or are keen to do so, though the numbers are not large.
'AM I GOING TO BE HOMELESS?'
Ms Jenny Li came to Singapore 10 years ago for work.
The Chinese national lives with her husband, five-year-old daughter and mother in a three-bedroom condominium apartment at Boon Keng.
The rent for her unit has almost doubled to S$6,000 a month from S$3,500 when she signed the lease two years ago.
Calling the rent hike "crazy", Ms Li said she tried to find another home in the same area but prices had become "ridiculous".
Landlords were already charging S$4,800 to S$5,000 a month for four-room HDB flats around the Boon Keng area, said Ms Li.
"I was genuinely worried, like am I going to be homeless?" she said.
Fortunately, Ms Li managed to find a home before her lease ends and will be paying S$3,800 a month for a four-room HDB flat in Sengkang.
The 38-year-old chiropractor will be moving into her new flat on April 19.
Similarly, 31-year-old Shriya moved from a condominium located in Tanah Merah to a HDB flat in Bedok last May.
She declined to provide her full name as she has just started a new job as an IT application developer.
The Indian expatriate was looking for a bigger home space around that time as she had just given birth to her son.
But to her shock, she found that rental prices had increased sharply — a two-bedroom apartment in the condominium complex she was staying cost S$3,500 a month in May last year, up from the S$2,200 rent a month before.
Ms Shriya said that the rent for the same unit now is S$4,000.
So they chose to rent a three-room HDB flat in Bedok instead for S$3,000 a month.
Another expatriate who is racking her brain about rising rents is Ms Debapriya Biswas, 36, who owns a social media marketing agency.
The Indian expatriate moved here with her husband and then four-year-old daughter in 2016.
She had been paying S$2,600 a month for a two-bedroom apartment in a Simei condominium since her last lease in 2022, but rent has now doubled to S$5,000.
"It's insane, I (will) have to use whatever I'm earning to pay for the rent," said Ms Biswas, whose lease ends in August.
She added that she is reluctant to relocate as she loves Singapore and has formed connections with the people and culture here.
"It's really very draining for me to even think that I have to relocate. But the prices are really too high," she said.
For now, Ms Biswas is looking to rent a three-room HDB flat in the eastern part of Singapore for around S$2,500 to S$3,000 a month, though it has not been easy due to the high demand.
WHAT PROPERTY ANALYSTS AND AGENTS SAY
Mr Vincent Woon, a group district director of Propnex Realty, said that starting from last year, he has seen a surge in enquiries for HDB flat rentals among expatriates, including those from China, India, France and Korea.
Ms Corraine Choo, another property agent from Propnex, also said that she has noticed a trend of expatriates moving from private properties to HDB flats.
Since the start of this year, she has closed around four to five deals per month for expatriates renting HDB flats, twice the number per month compared to last year.
"The salaries of expats are not increasing as much as the rent for a condo unit, it's quite scary. It's almost a 100 per cent increment to rent a condo compared to two years ago," she said.
Ms Christine Sun, senior vice-president of research and analytics at OrangeTee & Tie, noted that there has not been a big shift in expatriates moving from private properties to renting HDB flats.
"However, agents mentioned that some are turning more receptive to the idea of renting HDB flats, especially younger, single expatriates," she said.
She added that they are more receptive to renting flats that are newer and nearer to the downtown area such as Queenstown, Bukit Merah and Tiong Bahru.
Agreeing, property market expert Nicholas Mak said that there are some expatriates who have moved because HDB flats, especially the newer ones, are of "high quality and similar to the standards of mass-market apartments overseas".
The rents are also usually cheaper than that of private housing, he added.
Many expats do not own cars in Singapore due to the high prices so many prefer living near their place of work and public transportation such as MRT stations, he said.
Ms Sun said that as of now, as the number of expatriates moving to HDB flats "does not seem to be very big", demand from this group of tenants is unlikely to have a significant impact on the HDB rental market.
However if the demand for HDB flat rentals among expatriates grows, it could possibly push rent prices higher, she said.
You know prices are crazy when even expatriates can't afford it. I think people are willing to spend 1/3 of their pay on rent and will bulk at 1/2 their pay.
Are there so many HDB units to rent out? HDB needs to investigate if these are legal. There is a housing crunch. They need to go after people who live in condo and rent out their HDB unit.
Quest for the perfect Arcee
Mar 2023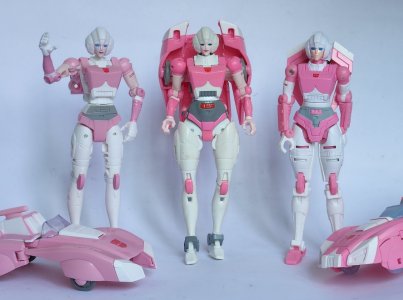 SS86, Legends, Earthrise
Arcee used to be a holy grail. It was never released as in the original '86 toyline, although it was prototyped. The first mass-produced transformable Arcee was probably Valkyrie (mid 2010) by Impossible Toys followed by Delicate Warrior by iGear (late 2010). An official transformable G1 Arcee was finally released in 2014, the Thrilling 30 Arcee. TakaraTomy released it as LG-10 with more toon colors (shown above) in 2015.
(Thrilling 30 refers to the 30th anniversary. It will be Thrilling 40 next year.)
The next official Arcee was WfC: Earthrise (2020). It was re-released in the Kingdom line (2021). A new mold was created for SS86 line in 2022.
I got LG-10 a few years back, despite not collecting CHUG figures. It looked really G1! I overlooked the "birth-giving hips" cos it was the only game in town — I thought so then. I did not intend to collect any more CHUG figures.
I was very interested when ER Arcee was revealed. Wow, it looked even more G1! But something felt off and I did not get it. That "something off" was that she was a complete shellformer. Her car mode were a complete shell. None of it made up her bot mode.
Last year, someone compared LG-10, ER and SS86 Arcees in a forum post and only then did I realize there was a new Arcee. And it looked good! It improved upon the T30 mold. I decided to buy it, though it would be a few more months before I saw it in retail stores.
At the same time, I found there was an upgrade kit for ER Arcee. It was possible (though somewhat difficult) to remove her car shell and install a smaller screen-accurate backpack. I was sold. Just nice, I managed to find a customized ER Arcee with painted face for 20 yuan (S$4) more.
That's how I have 3 CHUG Arcees. Do I need all of them? No. I'm considering selling LG-10. It was the first G1 accurate Arcee, but it has been superceded by better figures and there are now many choices across different scales (Legend, CHUG, Masterpiece). As such, it is not worth much these days.
The picture that sold me Legacy Blitzwing
Mar 2023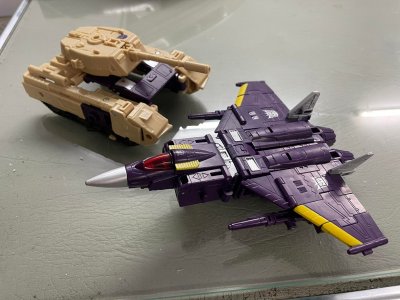 Blitzwing is a triple changer. Its two alt-modes are a Japanese Type 74 tank and a Soviet MiG-25 plane (though it may be hardpressed to recognize).
But here we see the two modes side-by-side from a single toy? :???:
This is Legacy Blitzwing, a Voyager size figure priced as Leader class.
Its tank mode is good (except for one thing) — the plane parts all fit inside the tank. But its plane mode is terrible. The tank parts just sit below the plane! It doubles the height of the plane and looks like a display stand. Someone found that it could be separated easily and hence the picture above. Notice the tank is hollow.
This means Legacy Blitzwing fails as a triple changer. But I like it! I like that the tank and plane modes can be displayed together. I must have gotten this from Arcee, where she is usually a shellformer and she can be displayed together with her car mode.
What is the one wrong thing with Legacy Blitzwing tank mode? The plane cockpit is protruding out too much. The animation model is wrong in the first place. The plane cockpit is supposed to be at the back of the tank, not the front. But that is water under the bridge.
Maybe because it is a terrible figure, it went on sale for almost 40% off and I got it for S$60.94. (The discount is not as fantastic as it seems, it is usually 20% off.)
Best of Transformers SS86 line
Mar 2023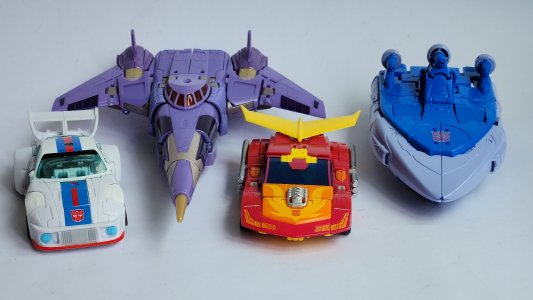 Jazz, Cyclonus, Hot Rod, Scourge
I decided to get some mainline Transformers figures on a whim. I would not have imagined doing so a few years back. They were too stylized and too "dumbed down". It changed with War for Cybertron: Earth Rise (2020). That was the start of G1 toon trend. Two figures caught my eyes: Smokescreen and Arcee. I kept them in my cart for a long time, but in the end I did not click the "Buy" button.
Fast forward to mid-2022. Studio Series 86 Arcee was revealed. It turned out that ER Arcee was widely derided for her "shellforming". SS86 Arcee was based on the Thrilling 30 Arcee from 2014 — a better figure by all accounts. I decided to get it and that opened the floodgate to a number of Arcees. This was a special case, though. I did not intend to get other CHUG figures.
The next figure to catch my eye (admittedly, I wasn't paying much attention) was Legacy Blitzwing, but that's a story for another time.
Looking back at 3 years of figures (since ER), quite a number of them were G1 looking, but most of them were too greebled or too hollowed-out (*) for my liking. Only a handful were decent, and most of them were from SS86 line.
(*) There is a cottage industry of third-party add-ons to fill in the gap — literally.
Figures that met my criteria (G1 toon look, well-done, iconic, discounted):
Kingdom Cyclonus (2021)
SS86 Hot Rod (2021)
SS86 Jazz (2021)
SS86 Sweep (2022)
The first figure I got was Scourge. Only, I got Sweep instead as it was heavily discounted (S$43.95) and I actually like the lighter blue more.
I got Kingdom Cyclonus next. It was an opportunistic buy as I found him for cheap (S$40). He looks like he belongs in the SS86 line due to his clean look (i.e. non-greebled). Unfortunately, he has a yellowing problem. Some/many batches were known to yellow, including mine — I got a pre-yellowed figure because I failed to check carefully.
An unintended buy was Jazz. He looks just the part — and this is without license! Most importantly, he was available at a decent price (139 yuan; S$27 excluding shipping).
Rounding up was Hot Rod. He is truly a "mini-Masterpiece". He is Deluxe size, but priced as Voyager. This is an increasingly common trend — intricate figures are priced one level up. I got him for S$42, but had I shopped more smartly, I could have gotten him for S$28+ (if meet $100 total) during Hasbro's Lazada 3.3 sale! I was wondering how sellers could price him at S$40+ (MSRP S$62.90). Now I know.
I would like to get Blurr too, but SS86 Blurr is one ugly dude!
Will I get more CHUG figures in the future? With the precedent set, yes, but they have to be "flawless" — and heavily discounted! I don't expect to buy many. :lol:
The SS86 line has Dinobots. They are pretty well-done, but not to my liking as they are quite greebled. There is recurring speculation that their S1 arch-enemy Constructicons will be released too. Perhaps in 2024 or 2026? (40th anniversary of TV and the movie.)
I hope the Constructicons are Voyager size, non-greebled and non-hollowed. Come to think of it, it is almost 10 years since Combiner Wars Devastator (2015, re-issued in 2021).
Masterpiece purge 2023
Mar 2023
Continuing my purge of unwanted figures.
Round 5:
MP-5 Megatron
BadCube Insecticons
MakeToys MTRM-11 Meteor (Starscream)
MMC PS-01A Sphinx (Mirage)
MMC PS-12 Saltus (Springer)
I used to want multiple sets of Insecticons, just like Reflector, for "army-building". Now, for Masterpiece, just the FansToys one will do.
For Starscream, I have DS-01 (Crimson Wings). It is as toon as it can be — it is even better than MP-52.
For Mirage, I have TE-03 (Speedstar) and FT-49 (Phantasm). Soon after I got PS-01A, TE-03 was announced. If I had known, I would have skipped it.
For Springer, I have MX-10 (Virtus) and RH-02 (Airwolf). These two were not released when I got PS-12. Otherwise, I would have skipped it.
3P figures are hard to move. There is little interest in them.
Round 6:
MP-12 Sideswipe [sold]
MP-19 Smokescreen
MP-25 Tracks
UW-04 Devastator
I'll keep the rest of my carbots (MP-17 Prowl, MP-20 Wheeljack, MP-28 Hot Rod and MP-39 Sunstreaker) for now. Not that sure about Hot Rod, though, with his massive backpack. :lol:
I decided to get rid of UW-04 Devastator too. It is hard to say if it can be sold, since I'm asking a rather high price together with the DK-01 upgrade kit (it has long been sold out and can command a good price).
Masterpiece purge 2022
Mar 2023
Note: this entry was written in Aug 2022.
Round 1:
MP-10 (Optimus Prime v2)
MP-11 (Starscream v1.5)
MP-22 (Ultra Magnus)
MP-36 (Megatron)
I have THF-04, which is KO of MP-22, and IT-01, KO of MP-36, so in a way I still have them. If there are better figures in the future, I will get rid of them too.
Round 2:
MP-13 (Soundwave and Laserbeak)
MP-15 (Ravage and Rumble)
MP-16 (Buzzsaw and Frenzy)
The ironic part is that I waited a long time for a reissue of MP-11 and MP-13, and now I get rid of them because they are not "toon enough". At that time, I thought they were the best possible representation. That was before the rise of "Third-Party" makers and the switch to toon aesthetics.
I still want Laserbeak. The cheapest way to get it is a 6-tape KO set (~$26).
Round 3:
MP-18 (Bluestreak)
MP-21 (Bumblebee)
MP-28 (Ironhide)
Round 4:
I sold MP-3 at a rock bottom price ($35). It was pretty dusty and had some discolouration after being on display for 15+ years. I also didn't have the box/instructions with me. I'm surprised there were takers, quite a few, in fact.
I'm thinking of selling MP-5 (Megatron) too. Of the "first gen" MPs, I will keep only MP-1 (Optimus Prime) and MP-8 (Grimlock).
Masterpiece purge 2021
Mar 2023
Note: this entry was written in Nov 2021.
I got rid of MP-10 (Optimus Prime v2), MP-11 (Starscream v1.5), MP-22 (Ultra Magnus) and MP-36 (Megatron) earlier this year, some sold at a substantial loss.
The purge continues.
FansToys has just released RP-01 Acoustic Wave under a new label Robot Paradise.
It comes with one tape, Rumble. Well, the red one. Depends who you ask, some say Frenzy is the red one.
Three other tapes, Frenzy, Laserbeak and Ravage, will be released as RP-01B. Buzzsaw (the orange recolor of Laserbeak) is missing.
I'm considering whether to get rid of MP-13 (Soundwave), together with the tape decks MP-15 (Ravage and Rumble) and MP-16 (Buzzsaw and Frenzy).
The ironic part is that I waited a long time to get the reissue, and now I want to get rid of them because they are not "toon enough".
Like the MPs I sold earlier, MP-13 and the tapes are not worth much due to direct KO (Knock Off).
More purges
I'm thinking about getting rid of MakeToys MTRM-11 Meteor too. Deformation Space DS-01 Crimson Wings just blows it out of the water.
MTRM-11 was my first Third-Party Transformers toy. It was the most "toon" 3P toy at that time (2017). How things have changed.
Should I get rid of BadCube's Insecticons? I just got the reissue set this year! I got the FansToys reissue set as well and am wondering if I need both sets.
BadCube set of 3: 790 yuan (S$167). FansToys set: 1,700 yuan (S$360).
Coffee price index
Mar 2023
At a coffeeshop near me:
| | |
| --- | --- |
| 2018 | $1.00 |
| 2020 | $1.10 |
| 2022 | $1.20 |
| 2023 | $1.30 |
I can't remember the prices prior.
There's a NTUC Foodfare within walking distance (~100m?) that is maintaining their coffee price at $1, though they have been forced to increase their beehoon price from $1 to $1.20 this year.
$1.30 vs $1. To walk or not to walk?
I remember coffee used to cost $0.60 in the mid-90s. That's 25 years ago.
I've also switched partially to instant coffee. It costs ~$0.50 per pack.
Related to it is the "Waffles price index":
| | |
| --- | --- |
| 2020 | $1.10 |
| 2022 | $1.20 |
| 2022 | $1.30 |
| 2023 | $1.50 |
Previously, it was $1. Yes, it increased price twice in 2022.
I used to buy bread from this bakery where they offer $1 per bread after 5pm (normal price is $1.50). That was two years ago. Then it became $1.10 per bread. Last year, it became 3 breads for $4 ($1.33/bread). The crowd disappeared. At this price, people start to look for alternatives.
Unfair queuing
Feb 2023
At around 9:30am, I started to wait for my turn to do eye check on Level 3, room 67. There was one person in front of me and she entered the room soon. I was the only person waiting.
At around 9:50am, another patient arrived and mentioned to the nurse she was sent here. The nurse entered the room to check and told her she was next.
At this point, my eyebrows was raised. Did she just preempt me? Surely she wasn't in the queue 20 minutes ago. (*)
After the current patient left (around 10am), she was next. Next, 2 more patients came and waited with me.
At about 10:25am, someone came by and asked a different nurse about his turn. The nurse entered the room and checked. Just nice, the patient was done, so the nurse told the new guy he was next.
Did he just preempt 3 people in front of him? That was when I had to ask the nurse for an explanation. Her explanation that the guy had been here since 8am did not excuse him from cutting queue at this station. I had been waiting since 9:30am and when it was eventually my turn, it was 11am. That's 1.5 hours for a single station!
When I brought this up to the Doctor later, he seeked my understanding for the slowness. That's not what I'm upset about. I'm upset about the blatant queue cutting.
(*) My first mistake was not speaking up at this point. My second mistake was not confirming my queue position.
It is not the first time I've encountered this, but it is too blatant this time. They just shuffled the order and didn't expect you to notice? Not this time.
The poor optometrist is going to get "scolded", because when 'confronted' in front of the Doctor, the nurse said the order must be confirmed with the doctor-in-charge. The nurse will give 101 reasons to change the order and the optometrist is just going to agree with her.
TaoBao spending 2022
Jan 2023
| Year | Transformers | Qty | Transformers (Legends) | Qty | Bricks | Toys | Astro | Others | Shipping |
| --- | --- | --- | --- | --- | --- | --- | --- | --- | --- |
| 2015 | – | – | – | – | – | 147.94 | – | 213.52 | 238.00 |
| 2016 | 377.00 | – | – | – | 9,416.55 | 379.30 | – | 357.70 | 2,564.00 |
| 2017 | 4,440.00 | 7 | – | – | 10,358.70 | – | – | 1,029.77 | 3,353.70 |
| 2018 | 3,208.50 | 6 | – | – | 1,019.00 | 768.90 | 7,535.00 | 1,011.10 | 1,241.00 |
| 2019 | 12,260.17 | 33 | 1,424.16 | 14 | 3,956.76 | 247.00 | 736.00 | 2,492.67 | 3,022.36 |
| 2020 | 8,168.61 | 16 | 4,742.51 | 32 | 1,877.71 | 175.00 | 371.00 | 787.44 | 1,192.50 |
| 2021 | 9,646.03 | 20 | 7,583.21 | 46 | 436.20 | 315.86 | – | 4,497.85 | 1,487.10 |
| 2022 | 8,232.80 | 16 | 4,356.00 | 19 | 1,550.83 | 299.37 | 740.25 | 714.45 | 2,043.53 |
Updated with some corrections. I split Transformers into non-Legends and Legends figures. I count figures, but not upgrade kits.
Spending was reduced slightly in 2022 because there were fewer Transformers releases. I expect 2023 to be a bumper year.
Despite wanting to wind down collecting MP figures, I still bought quite many of them in 2022. I expect it to be the same for 2023 (fulfilling prior pre-orders), but the number should come down in 2024 (higher threshold for new purchases).
I spent more than expected on Bricks and Astro stuff. My target is 0 this year. :-D